I have begun work on a new PID controller board. I'll be documenting it here in due course. [Edit: I've now got one in my machine but haven't yet finished commissioning it and haven't had a chance to document it yet either.]
Here are some of the improvements:
Much better provision for heatsinking the TRIACs. With an option to use water cooling – not sure I'll need it, but it will definitely mean no more TRIAC overheating ever.
Potential to use thermocouple or NTC temperature probes.
Up to 3 temperature probes. This would allow for an algorithm to correctly control water flow rate when steaming and still give a spare probe (maybe to check the TRIACs don't overheat or for a Gaggia Baby Twin steam boiler).
Water level probe.
Support for Gaggia Baby Twin steam boiler. (Extra temperature input and drive TRIAC).
Louder piezo buzzer.
5V and GND exposed via pins for add-ons.
TWI interface available. (Rather than using the pins for something else as I did previously!). This allows communication with add-ons and (yay!) also with the Baby Twin front panel.
Power doubling is now done on-board so no external diodes needed. (This is why there are now five TRIACs, one for the steam boiler, one for each element of the main boiler and one for each of the pump and solenoid.)
Better solution for mounting the board in the coffee machine.
The transformer's pinouts are arranged so that 120VAC transformers can be used for my coffee modding friends in the USA. (Whilst also still being able to use a 240VAC transformer as well of course.)
The rev2 schematic is coffeepidshield.pdf. Gerber files are here. Eagle files are here. Have a look particularly at DesignNotes.txt in the Eagle files zip for a mine of information.
Here's a picture of the top of the PCB layout (from earlier in the development but it gives you an idea):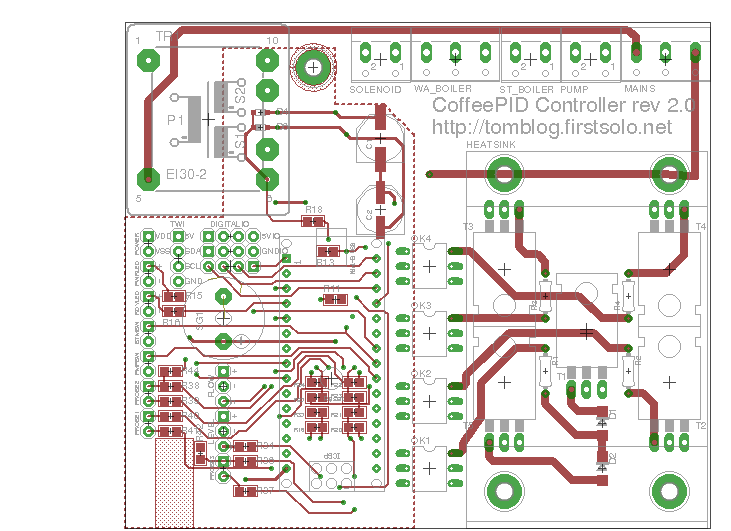 The board is sized to fit where the Gaggia Baby Twin's PCB mounting bracket lives along the left hand side of the top boiler housing. Here's an old bit of PCB giving an idea of the location (the PCB on the picture is the correct width but slightly less tall than the real one will be):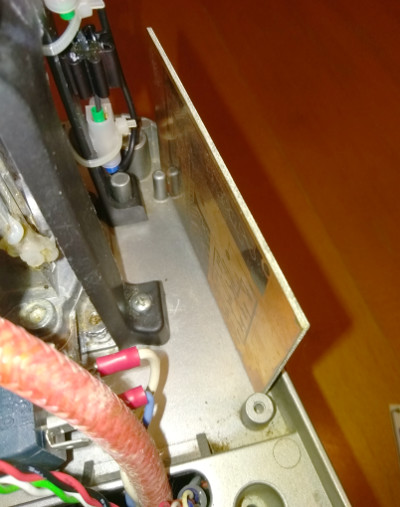 The mounting posts for the Twin PCB bracket help to locate it and I also plan to bolt it to that nice bit of clear base plate with the heatsink. (Note: those mounting posts break off really easily and are best not to be trusted!) Obviously, there will need to be some kind of plastic backing plate to this board to insulate the exposed mains voltage solder pads.
On the bottom right of the PCB layout, you can see the outline of the copper plate I intend to bolt over the TRIACs and bend 90° so it stands flat and doubles as a mounting bracket for the whole board. You can also see the square outline of a 40mm x 40mm water-cooled heatsink. If necessary, this will be cooled by water as it flows from the reservoir to the pump. Here's a picture of the heatsink and the as-yet-unworked copper sheet (still in plastic film):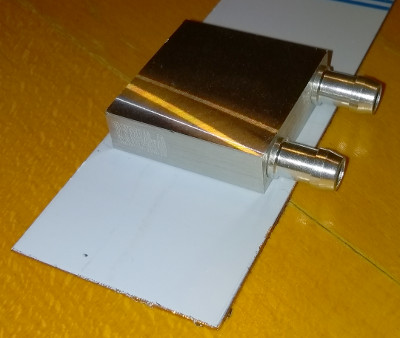 I now have all the components and have had some boards printed but I have not populated one yet. I do already know about two errors (despite very carefully checking everything over, there are somehow always errors when the board has actually been printed!).
R43 is specced as being able to drop 400V but is an 0803 component – no such resistor exists! I have a workaround mod to the board to handle this.
R43 and C26 form an RLC circuit with the inductance in the mains wiring and PCB tracks. If the inductance is high enough (and it can be in a normal scenario), this circuit can have oscillations with a peak voltage way above than the 340V mains peak1

Caused by the inrush current if you switch on in the middle of a mains cycle.

. This caused a catastrophic failure for me2

A lot of arcing and multiple vaporised tracks. This was a sub-optimal outcome.

. Replacing R43 with a 100R resistor should overdamp the RLC circuit and prevent these peaks. Also, putting a metal oxide varistor across Live and Neutral will absorb spikes and prevent arcing.
IC2 is connected to PMPSW instead of STMSW. IC2 changes the temperature range measured by the temperature probe so you can have one range for steam mode and another range for brewing mode. That means it should be connected to STMSW! Of course the two connectors can be swapped but that does leave the missing +5V on PMPSW, which I put in for STMSW for when I use the hall effect steam mode sensor on the Baby Twin. Still I can fiddle the wiring to work around this.
Anyway, look out for a rev2.1 design at some point – when I run out of the rev2 boards I had printed.
| | | |
| --- | --- | --- |
| 1. | ↑ | Caused by the inrush current if you switch on in the middle of a mains cycle. |
| 2. | ↑ | A lot of arcing and multiple vaporised tracks. This was a sub-optimal outcome. |