I have begun work on a new PID controller board. I'll be documenting it here in due course.
Here are some of the improvements:
Much better provision for heatsinking the TRIACs. With an option to use water cooling – not sure I'll need it, but it will definitely mean no more TRIAC overheating ever.
Potential to use thermocouple temperature probes. (This mainly means a negative voltage rail so the thermocouple can be in electrical contact with the boiler shell which is at GND.)
Water level probe.
Support for Gaggia Baby Twin steam boiler. (Extra temperature input and drive TRIAC).
Louder piezo buzzer.
5V and GND exposed via pins for add-ons.
TWI interface available. (Rather than using the pins for something else as I did previously!). This allows communication with add-ons and (yay!) also with the Baby Twin front panel.
Power doubling is now done on-board so no external diodes needed. (This is why there are now five TRIACs, one for the steam boiler, one for each element of the main boiler and one for each of the pump and solenoid.)
Better solution for mounting the board in the coffee machine.
The schematic looks like this at present (any comments welcome): coffeepidshield.pdf
Here's a picture of the top of the PCB layout: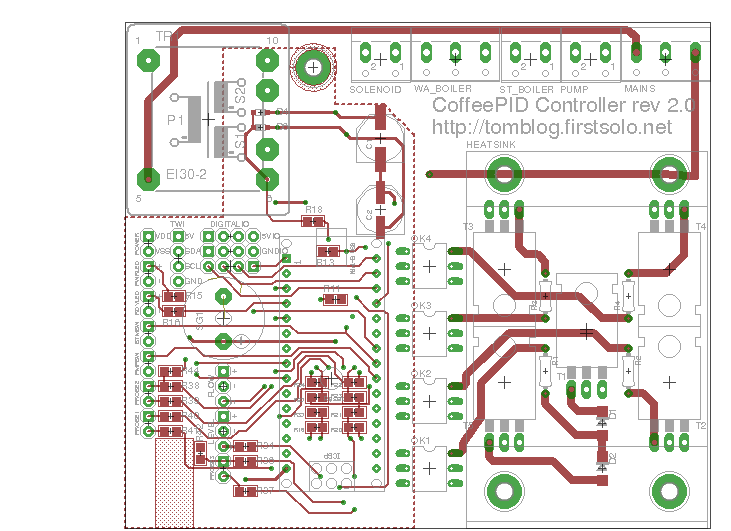 The board is sized to fit where the Gaggia Baby Twin's PCB mounting bracket lives along the left hand side of the top boiler housing. Here's an old bit of PCB giving an idea of the location (the PCB on the picture is the correct width but slightly less tall than the real one will be):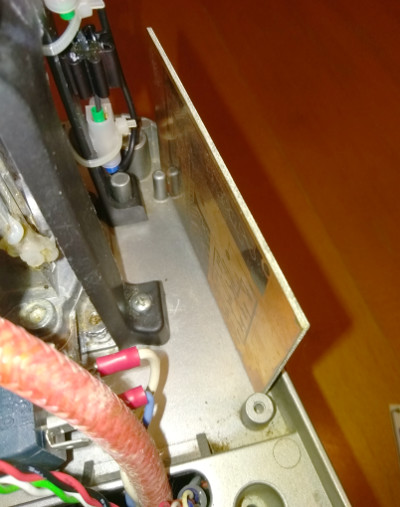 The mounting posts for the Twin PCB bracket help to locate it and I also plan to bolt it to that nice bit of clear base plate with the heatsink. (Note: those mounting posts break off really easily and are best not to be trusted!) Obviously, there will need to be some kind of plastic backing plate to this board to insulate the exposed mains voltage solder pads.
On the bottom right of the PCB layout, you can see the outline of the copper plate I intend to bolt over the TRIACs and bend 90° so it stands flat and doubles as a mounting bracket for the whole board. You can also see the square outline of a 40mm x 40mm water-cooled heatsink. If necessary, this will be cooled by water as it flows from the reservoir to the pump. Here's a picture of the heatsink and the as-yet-unworked copper sheet (still in plastic film):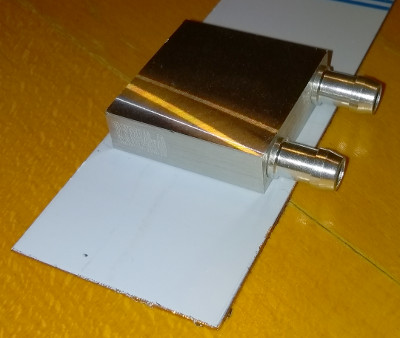 So I mostly have the stuff together. Just want to be really really sure I have thought of everything before getting the board printed.