As expected, the UK government announced yesterday that the present "lockdown" restrictions would remain for the present. Nonetheless, it is becoming clear that now is a time when critical decisions must be made. No one can be certain when we will reach the "peak" (and we won't know it was the peak for certain until afterwards anyway) but it is clearly some time around now1We know this because the rate of growth in infections has now descended to around or below 1. I could write a whole article on this, but this tweet captures it..
At this point it is vital that we know what kind of endgame we wish to target with COVID-19. We will make dramatically different choices depending on this choice. And I suspect the best endgame may not be the one we are drifting towards.
From all I have heard suggested, our endgame options to target are:
Eliminate the virus entirely.
Row back to where the number of cases is small and can, hopefully, be contained with aggressive track and trace tactics.
Allow the disease to progress until it peters out due to herd immunity.
Develop some new medical technology which protects us against getting the virus (prophylactic or vaccine) or which reduces the symptoms to non-fatal levels (maybe some kind of anti-inflammatory drug).
Two of these can be struck off the list immediately. The virus is now in the wild all over the word. We will not eliminate it without a global immunisation campaign – which requires a vaccine and would take years anyway2Just look at the polio eradication initiative which has been on the brink of success for something like 10 years. Nailing down the last few cases in Afghanistan and Pakistan as well as virus-derived outbreaks in central African states has been unachievable so far.. Eliminating the virus is not a realistic target.
Likewise, developing a medical breakthrough is not something we can plan towards. We may or may not have a viable vaccine within the next two years. We may or may not develop therapies that reduce the disease to non-fatal. Probably, given enough research effort, we eventually will. But no one can predict how soon (it has taken the better part of 40 years with HIV). At best, we're hoping for something within a year or two according to experts. If we get a medical breakthrough soon, that will be a fantastic boon. And it is well worth putting a lot of investment into this attempt. But it is a shot in the dark. It is not something we can realistically plan around because there is no clear roadmap to this destination.
So, for planning purposes, that leave us with either a) attempting to contain the virus or b) minimising the impact whilst it infects enough people that we develop herd immunity.
My impression is that the UK government was intentionally targeting the latter when it moved from the "contain" phase to the "delay" phase of its four-phase plan on 12 March 2020. That's what all the talk about "flattening the curve" meant. Now, however, the rhetoric seems be moving back to the idea of "containing". I think that is what is behind government announcement of a contact tracing app.
Now, such an app could be part of either a "contain" strategy or a "delay" strategy. But if we are still targeting a "delay" strategy we should also be talking more about how and when we will begin to relax the lockdown. Otherwise we risk returning to the same place we were in mid-March with most of the population non-immune and sporadic small outbreaks across the UK and the bulk of the epidemic still ahead of us. It only makes sense to talk about continuing the present restrictions if we are moving back to a "contain" strategy.
I understand the desire to move back towards containment. As we pass 10,000 hospital deaths for people with COVID-19, the numbers feel shocking and frightening. Likewise, all the stories of youngsters and NHS heroes who were formerly in good health are heartbreaking. If we allow the virus to spread until there is herd immunity, there will be many more such stories. You'd have to be cold-hearted indeed not to want to put a stop to these deaths. So of course we want to opt for containment.
But, here is my question: might we be risking making a poor decision for emotional reasons when a more objective decision would result in less harm in the long term?
So here is some objective data to help us decide what endgame to target.
First: how many people need to be infected for herd immunity?
It is fairly easy to estimate what percentage of the population has to be infected for herd immunity by itself to stop the virus spreading. Back when there were no restrictions in place to prevent growth of the virus, the infection numbers doubled every approximately 3 days3Look at the UK numbers mid-March and you'll see that whatever day you pick, the number of confirmed infections was about double three days later. Note it doesn't matter that we're only counting confirmed infections here as the point is to evaluate rate of growth rather than the actual real total number of infections.. Assuming someone is infectious for about 9 days 4Say 2 days before symptoms plus the 7 we have been told to isolate for after symptoms start., then the total multiplies by 8 (= 2 x 2 x 2) in the time someone is infectious. That doesn't mean that one person infects 7 others because there is a compound interest effect taking place – newly infected people start infecting others as well. Using standard mathematical tools, we can work out the "simple interest" rate, i.e. how many people one person infects on average. It turns out that one infected person infects about 2.1 others whilst they are infectious. That's the first important number.
We want to get to a point where herd immunity reduces the 9-day growth from 8 to less than 2. That way, the number of infectious people is shrinking (because after 9 days those who were infectious on day 1 are no longer so). The same calculation reducing compound interest to simple interest means that each infected person then has to infect less than about 0.7 other people on average5Yes, it's weird that you get double the number from infecting less than one whole new person each but this is the effect of the compounding.. This is the second important number.
Herd immunity needs to reduce contact between infected people and non-immune people so that the 2.1 is reduced down to 0.7. This happens when only 33% of the population can be infected. Or when 67% have immunity. So we need more than about 67% of the population to have had COVID-19 before herd immunity will stop it spreading without other measures such as social distancing and isolation.
The UK population is 66.6 million. So that means 44.4 million have to get the disease for herd immunity to stop it.
Second: how many will die if we opt for a good infection profile?
COVID-19 is quite selective in whom it kills. We can use this to minimise casualties.
If we use NHS data up to the end of March, the death rates should reflect conditions before the UK government began recommending that older and vulnerable people self-isolate. So we can assume there was a reasonably homogeneous spread of the virus across age groups. At this point, the numbers who had died correlated to age groups were:
0-19 years: 4
20-39 years: 30
40-59 years: 259
60-79 years: 1,386
80+ years: 1,841
for a total of 3,520. Assuming that about 1.5% of people in total die from COVID-196Using numbers from, e.g., South Korea which has tested extremely widely and, therefore, is perhaps the best source of information about how many people die when non-symptomatic infections are taken into account. The number is approximate because our age demographics are different to South Korea but from lots of sources it looks like it is in the right ballpark., then these deaths reflect about 235,000 total infections. Mapping that to UK age demographics we get:
0-19 years: 55,113 infections, so death rate of 0.01%
20-39 years: 62,070 infections, so death rate of 0.05%
40-59 years: 61,792 infections, so death rate of 0.42%
60-79 years: 44,416 infections, so death rate of 3.12%
80+ years: 11,609 infections, so death rate of 15.86%
Clearly, our best mortality rate from COVID-19 comes from infecting younger people! If we infected pretty much everyone up to the age of 54, that would be about 46 million people. This gives us the magic 67% with abut 1.6 million to spare. In fact, more than that as there are probably over 1 million people who have already been infected in the UK7Working on the assumption that the average fatality rate is about 1.5%, as above..
How many would die? Using the numbers above with UK age demographics, we are looking at:
0-19 years: 1,131
20-39 years: 8,481
40-54 years: 55,223
Although the last number is probably a significant over-estimate because it applies death rates for over-50s to under-50s8It would have been much more helpful if I had breakdowns in 10 year age ranges..
Remember, though, that we had a spare 1.6 million or more. What if we keep all the people with underlying health conditions isolated and only infect all the other 0-54 year olds? I suspect the numbers would drop significantly. But I don't have the data. So let's call the numbers above a very much worst-case scenario.
(Just on the off-chance that someone decides to enact policy based on my numbers, I would strongly advise checking my figures with any more accurate information you have to hand.)

Third: objectively, how bad are those numbers?
Those numbers are people. And losing that many is awful. But, objectively, how do they compare with what we consider to be "normal" everyday risks? The Office of National Statistics keeps track of our chances of dying within one year in their national life tables dataset9You want the qx value for males and females on the 2016-2018 tab.. Here, we can find the likelihood that anyone will die within one year of each birthday. Here's a plot by age of the numbers for males and females next to the likelihood of dying from COVID-19: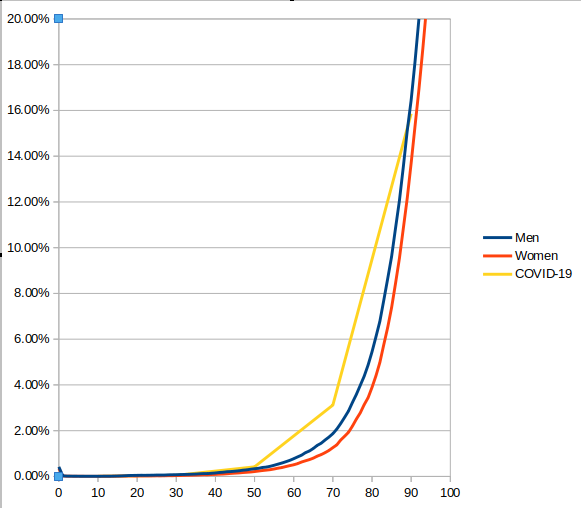 The curves are very similar! Even though the COVID-19 numbers are far more granular, we can clearly see that at any age, your chance of dying from COVID-19 is, at worst, only slightly more than the chances you were already living with of dying in the next year. At worst (for people in their early 50s) it is about equal to the chance you'll die in the next two years. It's just that these "normal" risks don't make the news. We are used to them and so they scare us much less.
It would still be a tragedy to lose tens of thousands of people to COVID-19. But it is a tragedy we already live with. All of us are going to die. Some of us are going to die fairly soon. COVID-19 just throws the tragedy into sharp relief.
Emotionally, I still don't like this picture. And even surviving COVID-19 can be pretty unpleasant and I don't want to get it. But objectively, I see that these are risks I am used to and which I can live with. And remember, that's assuming a worst-case scenario.
Fourth: what about the alternative?
So much for herd immunity. The alternative is the attempt to contain the virus until we have a suitable medical innovation.
How many people will die from this? Unfortunately, whilst it is fairly easy to estimate how many people will die in pursuing herd immunity, it is very difficult to know the fallout of a containment endgame strategy. We do know that economic fallout leads to deaths, not least through reduced mental well-being which leads to poorer life-choices, poorer physical well-being and, at its extreme, greater likelihood of suicide.
Then there is also the question of when international travel can resume. This is the situation China is in – they have pretty much stamped out the virus, but it is in the wild in the rest of the world. So they cannot resume life as usual. At the best, we face a very long time where international travel to many parts of the world also means a period in quarantine (probably on both sides!).
And how many companies must collapse? How many jobs must disappear? The longer we remain in some state of lockdown or oscillating in and out of it, the worse it will be for the economy.
And when will schools go back? Observing my own children, it is clear to me that they represent a huge risk of spreading the virus. They just aren't very good at social distancing. Track and trace techniques would mean that entire classes, year groups, and even schools would regularly have to go back into quarantine.
Finally, we must recognise that containment is an open-ended strategy. It has no clear end-point before a vaccine/prophylactic/effective medical treatment is developed. And, once again, we really do not know when this will happen. We face a potential multi-year period where the question remains permanently before us: continue to contain or allow herd immunity to develop?
What should we do?
So which to choose? Personally, I don't like the idea of allowing the disease to spread. The short-term cost is great. And, being on the cusp, myself, at age 47, that places me in the highest risk group. But logically, I suspect the best answer is to adopt a policy that will spread the disease through the younger half of the population. I wonder whether the most logical approach to this is a phased return to school. Perhaps one year group at a time. Teachers would be best able to advise which year groups would benefit most from going first.
Anyway, that's where my thinking has got to as of today.
| | | |
| --- | --- | --- |
| 1. | ↑ | We know this because the rate of growth in infections has now descended to around or below 1. I could write a whole article on this, but this tweet captures it. |
| 2. | ↑ | Just look at the polio eradication initiative which has been on the brink of success for something like 10 years. Nailing down the last few cases in Afghanistan and Pakistan as well as virus-derived outbreaks in central African states has been unachievable so far. |
| 3. | ↑ | Look at the UK numbers mid-March and you'll see that whatever day you pick, the number of confirmed infections was about double three days later. Note it doesn't matter that we're only counting confirmed infections here as the point is to evaluate rate of growth rather than the actual real total number of infections. |
| 4. | ↑ | Say 2 days before symptoms plus the 7 we have been told to isolate for after symptoms start. |
| 5. | ↑ | Yes, it's weird that you get double the number from infecting less than one whole new person each but this is the effect of the compounding. |
| 6. | ↑ | Using numbers from, e.g., South Korea which has tested extremely widely and, therefore, is perhaps the best source of information about how many people die when non-symptomatic infections are taken into account. The number is approximate because our age demographics are different to South Korea but from lots of sources it looks like it is in the right ballpark. |
| 7. | ↑ | Working on the assumption that the average fatality rate is about 1.5%, as above. |
| 8. | ↑ | It would have been much more helpful if I had breakdowns in 10 year age ranges. |
| 9. | ↑ | You want the qx value for males and females on the 2016-2018 tab. |